Vintage clothing will never fail to impress you in terms of style, tailoring, and fabric. Honestly, present trends and fashion originate from a previous era. There are so many reasons to put your hand on vintage clothes. Being environment friendly and the style factor will just steal your heart. But what's more than this? Yeah, the favorite reason is that every single vintage piece has a history behind it. Moreover, these clothes are incredibly versatile. 
Do you know which vintage piece is most loved by the men's community? Yes, you guessed it right!! The most comfortable yet chic are loose-fitting shirts called 'Vintage Shirts.' They come in an ample number of designs, colors, prints, and patterns. Perhaps most of you must already have one or more of these in your vintage closet. But ask yourself how often you have worn and styled your vintage shirt? It might be one or two times because you do not know the correct or say the smart ways to style it to create different looks. 
Do not worry! This article will surely help you because it contains everything you want to know. It is the ultimate guide from tips to the styling of vintage shirts. Let's dive into the post to know how cool vintage shirts can be! 
A glance into vintage shirts
Most of you want to become a hipster, the person who follows every latest trend and fashion. And these vintage shirts, especially for men, can be your best friend on this journey. You can create a wholesome of new unique looks with this vintage piece. In today's time, mixing vintage clothing with that of new trends can be a fun part. 
All in all, vintage shirts are like the extra chocolate syrup to your wardrobe. They add an array of beauty and glamor to your look. These shirts come in a variety of options from tropical to animal to geometrical to cartoon character prints. Give them a chance and stand out for these shirts because for sure they are not going to break your heart in terms of modishness. 
Furthermore, The exciting thing about these shirts is that you can style them with every bottom wear you have, whether it's track pants, denim, formal pants, skinny trousers, shorts. Every combination will look super adorable and elegant. On the whole, vintage shirts are versatile pieces of cloth that you cannot neglect. Isn't it interesting! Scroll down the page to see how precisely you can create the perfect looks that you want with this magical vintage piece.
Remarkable tips to follow before styling your vintage shirts
1. Never feel disheartened! There's something for everyone
If you think that you would have trouble finding the best vintage shirt for yourself, then wait; you have to give more time to your search. There are millions of styles that you can easily find from thrifted stores or online. Moreover, you should always try buying the pieces from the different decades that will further help in incorporating the look you want. 
For instance, you can create an elevated modern business casual look by just wearing a leather jacket over your vintage shirt. In addition, you can always go for the option of completing the look with vintage accessories. Together in all, shopping vintage can actually enhance your wardrobe by virtue of its uniqueness. There is nothing wrong with carrying the vintage pieces that ultimately have the history and past lives attached to them.  
2. Classics are evergreen
It is true that whether you follow the latest fashion trends or not, some looks or outfits will remain classic and never be dated. Vintage shirts are one of these fashion staples in a man's wardrobe. If you are a vintage lover, you must believe that the vintage pieces or clothes you own always stand the test of time in fabric, quality, and tailoring. They are vintage for a reason. 
Moreover, talking about the styles, you can pair a soft, worn vintage shirt with a classic pair of denim Levi's and a bomber jacket over it. It is the timeless look you can think of. Moreover, military-inspired patterns and nautical prints are always around the corner. 
3. Standout pieces that actually suits you
Each piece of vintage shirt for men is unique. If you are more into dressing originally as per your lifestyle, vintage shirts are great things to get your hands on. Many people are not into following the current present trends. Generally, if you do not like it and just mean it is a trend, there is nothing necessary to follow it. Always look for the garments that suit you because they will make you a true original. Do not waste your money on clothes that you will never wear. Shop smartly and buy the one that fits your personal style or body type. 
Read This Too: How to Measure Vintage Clothing?
How to style vintage shirts?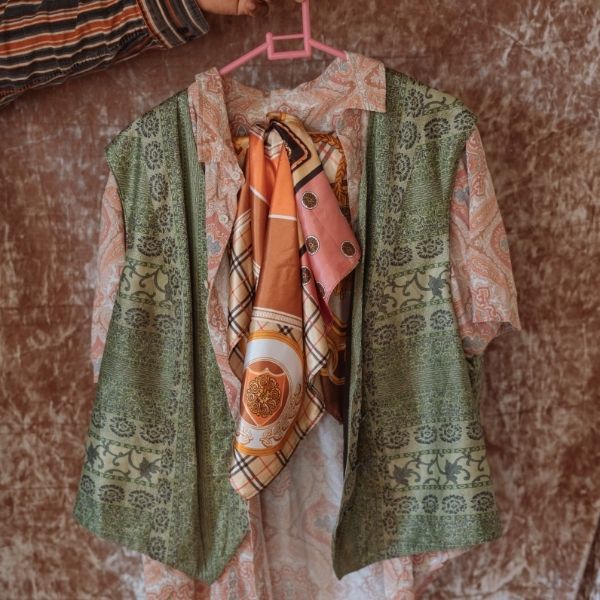 1. Play around with multi-colored and multi-patterned
Styling vintage shirts is really an easy and interesting task. If you like wearing bright multicolored and multi-patterned vintage shirts, you must try the looks mentioned in the following sentences. Firstly and importantly, you can always style these kinds of shirts with a belt, felt hat, and a pair of black ankle boots to get that chic rocking look. Moreover, to get an eye-catching, sophisticated look, slay your vintage shirt with ripped denim jeans. Accessorize a little by wearing a wristwatch. So, any other time when you plan any casual outing, do not forget to slay in this bohemian look. 
Secondly, if you want to look more stylish, try wearing bright-colored vintage shirts. Pair it up with blue/black skinny jeans, and do not forget to tuck the shirt in. Do not forget to wear up the belt around your waist. What's left? To round up the look, wear white sneakers or a pair of boots that will add forum moons to the complete outfit. A piece of knowledge  is that if your shirt has long-sleeves, fold it down at least two inches to add more details or flaunt in your look. 
2. Wear your vintage shirt as a layering option
Apart from rocking your vintage shirt as a shirt, you can always try the idea of wearing it as outerwear. It will be the most appropriate and quick way to style your vintage shirt. You can always layer it over any tee, vest, or solid-colored sweater and create a million looks from formal to semi-formal or for a particular occasion.  
Conclusion
Now, after reading the whole article, you have a pretty good knowledge of vintage shirts. So, what are your impressions on spicing up your look with the help of vintage shirts? Vintage shirts have already got their name so popular in the market because of the classic style they can provide. You will surely be in love after trying these beautiful and impressive ways of styling. So, what are you waiting for? Ready, set, go! Create your dream look with a wide variety of vintage shirts. Hope you liked this post!!