Everyone wants to get their hands on the unique, designer, and original vintage piece. However, many of you might feel it difficult because of the lack of proper knowledge. As you all know, tailoring vintage clothes requires a high level of skill that everyone does not have. So, online stores and vintage boutiques have made it possible for everyone to reach out to vintage clothes quickly. These clothes have developed a new world of styling and fashion. Regarding their quality, uniqueness, and overall style, vintage clothes undoubtedly are far better than today's style.    
Even if we look deeply at present fashion staples, you can understand how vintage clothes are doing their job in it. Shopping for these attires is a great way to find unique pieces and complete your closet. Additionally, you can always discover a new design or a vogue by wearing and flaunting in pretty vintage outfits. However, it requires a lot of bona fide research and true patience. You cannot buy a vintage cloth by just looking at its label or tags; several other factors like trials and fashion are necessary. 
So, here's a compiled list to clear all your doubts concerning shopping for vintage clothes. Luckily, you will also get to know the real meaning of vintage clothes with some exciting tips and tricks to buy these clothes. Not just this, you will find a list of FAQs and the right places to purchase these clothes in this article. On the whole, it is the ultimate guide for worthy vintage clothes shopping. 
The real meaning of vintage clothing
What is the actual meaning of vintage in your language? Many will say it is high quality, and some might say it is old. Yeah, you are right, but not completely. The word "vintage" means "from or related to the past." When the talk comes to vintage clothing, it represents approximately 20 years old items. Moreover, over 100 years old clothing is considered "antique." Vintage clothes are probably previously worn or usually secondhand. 
Additionally, people who think that "retro" or "vintage" clothes are the same, but disappointingly you are wrong. Retro clothes are inspired by previous era fashion; they usually imitate past trends. Furthermore, many of you would often get confused about the genuine meaning of deadstock. So, these clothes are unworn and are found in bulk in warehouses or factories. On the contrary, vintage clothes are typically not deadstock. 
Where to buy vintage clothing?
There are many options from where you can buy your vintage clothes. It can be a vintage boutique, online store, or discount thrift store. Let's discuss each one in brief.
1. Online
With the emergence of the digital world and everything, online stores have been a lifesaver for everyone. Many online stores sell vintage clothing. Moreover, there are a plethora of pros to shopping online. Firstly, they are economical, budget-friendly and you can easily find your style of a vintage piece. You can directly search for a specific key term, and guess what? You have found the garment piece that you are looking for. 
2. Thrift store
Everyone knows that thrift stores are the places that typically sell second-hand clothing at discount rates. Yes, undoubtedly, it is true that you have to dig out the quality vintage pieces from the group of collections. It requires a lot of effort to find the actual size and style that you want.
3. Vintage boutiques
Vintage boutiques are the perfect place to get unique and designer pieces of vintage clothing. You have to get your fiber stitch or hews according to a specific aesthetic of the past era. To get a modern yet vintage chic, you can choose the design and fiber and match it with present trends.
Tips to shop vintage clothing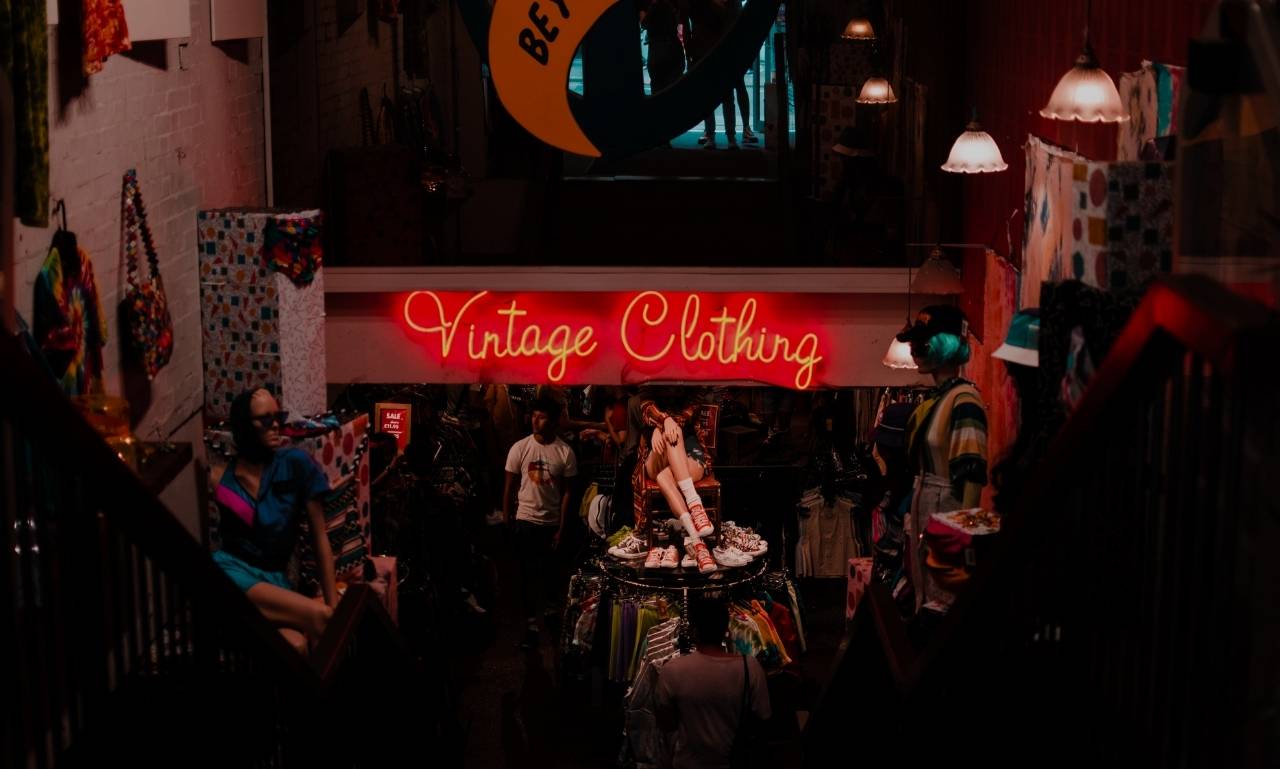 Shopping for vintage clothes is like an adventure; it requires a few subtle skills, and with this, you can rock in this journey and develop your perfect vintage closet. Here are a few tips that you must keep in your mind, and these tips can help you answer how to buy vintage clothing?
Read this too: How To Measure Vintage Clothing? 
1. Inspect the garment
Sometimes in a hurry, you all ignore the small design of your vintage cloth while buying. Undoubtedly, you are investing your money to get a perfect garment with no damage or moth holes. So, to avoid this mistake, feel the fabric, examine the garment; overall, inspecting the vintage piece is necessary. Check whether the zippers, closures, and buttons are placed equally and ensure all these are working correctly. Also, check the union tags or label to know where the item is made.
 Furthermore, do not forget to check for any cut or damage or moth holes, which can be a major deal-breaker. As you all know, a penny earned is a penny saved, so no one wants to spend their money on worthless things. Likewise, while purchasing your vintage pieces, keep this in mind.
2. Check out the tags, but do not forget to try them on
A real vintage piece had been worn, loved, and shrunk out once. You all must be familiar that the sizing rule of these clothes was a bit different following modern style in past decades. For instance, the tag may show the size eight, but it actually fits a person with size four according to present times. So, many times, people ignore this thing and buy the wrong size product, which is a waste of money. Therefore, wherever you go for vintage shopping, do not forget to try wearing the outfit or try on anything you like and want to purchase. Just make sure it fits like a glove.  
3. Shop patiently
Everyone knows that haste makes waste. What is the point of shopping in a rush or hurry? Of course, shopping is a process of enjoying and relaxing your mind. So, why are you forcefully putting yourself under pressure by shopping in a rush though it makes no sense? Moreover, think that you are not purchasing your regular ordinary clothes from a store; you are buying the pieces of history. 
Do not expect that you will get the dress according to your style or choice by just popping into the first store. This whole process requires effort. Therefore, set a personal strategy of frequently visiting the vintage or thrift stores and then raise your expectations after exploring the collection. All in all, shop vintage clothes patiently and regularly.   
4. Budget is the real king
It almost happens with everyone that you select the product based on your liking and choice, and after knowing the price, you put it back or cancel the plan of purchasing that exact item. So basically, what is the reason behind this?  Maybe the range is high according to your budget? Or perhaps you do not find the product worthy as per the cost? So, never flow out of your budget, and also do not buy the vintage piece if you are not feeling it that much thing of note. Try on to another article.
 Moreover, you can always welcome bargaining in this process which can indeed help you in the budget game. A good piece of advice will be that if you go shopping in thrifting stores or flea markets with the cash in your hands and not credit cards or online payment.
5. Buy according to your style
Everyone has a different fashion sense and sees the world according to a different trend. There is nothing wrong with wearing a short or a long skirt. You can wear and style any cloth according to your personal knowledge. Moreover, vintage clothes are way too stylish and have different varieties. So, buy in obedience to your style or anything you like. Moreover, if you are a person who follows the trend, then keep in mind the current craze and do a bit of research. 
5. Is the vintage garment worth buying? 
Ask yourself this question after liking any piece wherever you go vintage shopping. For instance, if the garment is big-budget or has damage, would you be interested in buying it? Never forget to search for flaws. Yes, some defects are fixable, like alteration or mending. But just in case, if your cloth has some stain, do not bother yourself with the thought of buying it. Moreover, do not buy the items that need mending unless you literally mend them. 
Overall, don't rush and expensive or damage the purchase. So, to conclude things up, buying vintage can be immensely regretful and can even warm the cockles of the heart in a fast-fashion wardrobe. Never ever try to be too hasty with the decision of purchasing any single piece in this whole process of vintage shopping. 
FAQs
Now, it's time to clear some of your significant doubts regarding shopping for vintage clothing. Check out this section because it will undoubtedly answer your juicy questions and help you shop for suitable vintage clothing. 
1. What is the difference between vintage and thrift clothing?
Okay, so many of you will think that vintage and thrifted clothes are similar with no distinction. But sadly, it is not valid. Thrifted clothes are a category or collection of previously worn garments, or you can say they had a home before. These can be your regular clothes. On the other hand, vintage clothes are articles from a previous decade with high-quality fiber, ranked in the test of time.
2. How to identify fake vintage clothes? 
Spotting fake vintage clothes is the only effortless task in this whole journey. The primary thing to check is the material and style of tailoring. If you find it difficult to spot the fake item, take the help of a label or tag that depicts so much in every vintage product. Many a time, if you capture the fake logo or design can help you buy the wrong or fraudulent product.
Read this article How to spot vintage clothes for more details.
End thought
Shopping for vintage clothes is similar to playing with the toddler. There is a risk that the toddler can get injured if you do not pay attention to it; likewise, you can buy the wrong product if you buy in a hurry. Also, in short, vintage is all about finding what exactly suits you, fits your personality, and stands in your comfortability and body test. Furthermore, everyone has a different definition of vintage, and that's what makes the whole world confused about what vintage is. So, buy according to your needs. Hoping this article helped you. Have a great time ahead with your happy vintage shopping.