What are your thoughts on styling vintage clothing? Many would think wearing vintage clothing is the same as wearing an old costume. But this is not true! The whole point ends with the styling trends, especially your personal feelings related to any outfit. If you are feeling comfortable, you are never going out of fashion. Talking about vintage clothes, they have always rocked in their era, and that is what makes them "VINTAGE."  These pieces of history are never out of craze. 
Vintage clothes are an ideal option to create unique, timeless looks that will make you stand out from the crowd. Moreover, if you have a good collection of vintage clothes, it might be difficult to style them according to the present vogue. But not more if you give this article a read. You can make your vintage clothes and accessories the king of an outfit. You can also invest in vintage staples that work in every trend and decade. 
Furthermore, mix-matching your vintage with regular modish clothes is always a lifesaver. Are you curious to know how to style your vintage garments that will give a dramatic look with a pinch of modern style in them? So, let's go for it. Check out this descriptive article to find the fantastic styling of vintage clothes below. 
Why should you put your hands on vintage clothing? 
Before knowing the ways to style vintage cloth, it is essential to understand why you should add these garments to your wardrobe. These clothes fill all the boxes with favorable views of your expectations. Firstly, the material or fabric is natural, primarily cotton, silk, linen, and wool, making these clothes a comfortable year. Talking about their style, they are the pieces of history that will give you a peculiarly strong sense of style. 
The most important thing we consider while buying any type of cloth is its tailoring. So, vintage clothes are more often high quality with better tailoring and delicate attention to detail. These garments will have properly finished seams, linings, and pockets. So, do you need any other reason? Do not get confused or hesitate in purchasing vintage clothes because you are surely going to flaunt them. 
Tips for wearing vintage clothes
1. Pick and style garments according to the present trends
Everyone wants to create looks that make them feel charming and stylish. But what if you are styling your vintage clothes? Many juicy questions will try to eat your mind. Like, is there any way to look modish in these clothes? Yeah, one of the perfect ways to parade in your vintage attire is picking and styling them like current trends. You can invest in a vintage dress with a modern design, and yes, that's all. You are all sorted! Another way is to style your vintage garments according to the current fashion. For instance, you can try a vintage shirtwaist dress and style it up with a wide blackbelt. And guess what? You are all ready to flourish your modern vintage look. 
2. Mix matching the vintage eras 
Mix-n-matching is always the easiest go-to way to start your styling journey. You can make your vintage clothes more wearable and dress them in plenty of ways according to the occasion by just fusing them. There are different fashions and trends in every era. For example, in the 1990s, baggy flannel shirts with leggings and oversized shirts were most popular. And if you take a look at the current fashion, you will indeed find them similar. 
Try to style your vintage clothes with contrasting eras to create unique looks. Mixing your unexpected pops of vibrant colors, the combination of textiles and silhouettes, and matching with layers of different patterns will always serve to make you look attractive and timeless. In this way, you can create a million looks, whether a holiday, classic, or bohemian style look. Undoubtedly, mixing eras is the most pleasurable, exciting, and fascinating way to wear vintage. 
3. Do not forget contemporary hair, makeup, and accessory
If somebody asks you what completes your whole look? Yes, the smile is the best makeup, but this is not the reality. If you have decided to style your vintage clothes, it's excellent! But you cannot dedicate your precious hours to recreating vintage hairstyles and makeups. So, of course, your makeup and hair are comparatively going to look modern. But have you ever thought that you can also style your hair and do makeup in a contemporary vintage look?
You must be familiar that women used to dress their hair as a slicked-back bun in historical times. You can even do something similar by adding loose waves or classical accessories for an elegant look. Furthermore, do not forget to add shoes, bags, and sunglasses if appropriate to look streamlined overall.   
Styling vintage clothes into fabulous outfits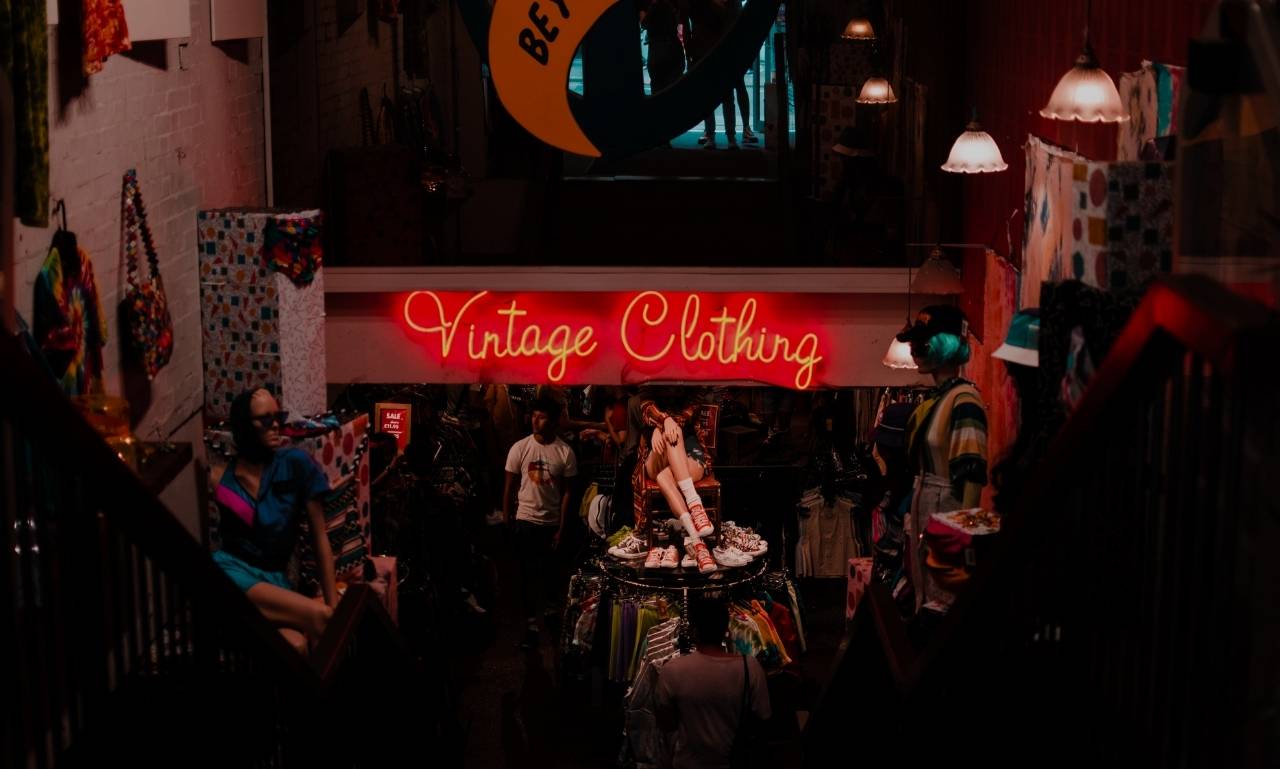 1. Enduring the classic look
Your vintage button-up white shirt is never ever going out of fashion. And pairing up with straight-leg dark blue denim will be the perfect outfit combo ever. But the whole look isn't completed. Top it off with a reptile print brown belt with the combination of brown practical shoes and a stylish bag. This outfit is what you can call an everyday look. Even if the weather is frost, you can wear a vintage trench coat over it.  Moreover, this classic look has worked for decades and is presently in trend too. 
2. Quintessential bohemian stalwarts
Who doesn't love wearing dresses? And do you know that vintage dresses are typically the most precious and attractive pieces of history? The detailing in these dresses is one of the most appreciative reasons. So, if you don't have one, add it to your wardrobe as soon as possible. Wear a flowy white vintage dress that will make you look like a 70s stunner. Accessorize up with floral flats, a chain, and a matching purse. To give it a bohemian holiday vibe, combo it with a hat and play the pop of vibrant colors. 
3. Party spotlight
Everyone wants to be the spotlight showpiece at the party. But, how can you achieve it? Sometimes a wrong party outfit can ruin your whale mood, and the right party dress can make your party memorable. So, what are your thoughts on dressing in a black and gold vintage dress? You will steal everyone's attention and heart in this pretty fancy outfit. Also, let your vintage dress take center stage by accessorizing it with coordinating black and gold heels, earrings, and a purse. Also, you can wear it on your date night to impress your partner with your sparkling look. 
General FAQs
1. Does vintage clothing require a big-budget?
Generally, vintage clothing is not expensive. It requires the same amount of money as your regular ones. But to be honest, if you have eyes on some vintage designer pieces, they can be expensive. As these designer pieces require a lot of hard work in high-quality tailoring, you must have to pay for them. 
2. How can you style your vintage clothes without getting any costume vibes? 
Although there is nothing wrong with dressing theatrically, there are countless ways to wear and style your vintage clothes without getting any dramatic look. Firstly, you can follow the thumb rule of vintage top and modern bottom or vice-versa. You won't even realize you are wearing vintage clothes and can bloom in your outfit by this method. However, do you know that vintage pieces inspire almost all contemporary designs and trends you are following today? So, choose up the best and get ready to flaunt in your style! 
Ending the thought
To sum up everything stated so far, you should know that vintage clothing was never and is never going to be out of fashion. Adding a few glimpses of the right accessories with vintage garments can elevate your whole personality. You can try the ways mentioned above to wear vintage. Dressing vintage is the best way to ensure that you are wearing a unique outfit. Moreover, adding vintage to your wardrobe is like adding more paint colors to your wardrobe palette. So, go ahead, support online businesses and shop your favorite vintage clothes for yourself.