Believe it or not, oversized shirts are the most stylish trend right now. By the way, they have never been out of fashion, right? There are plenty of designs, shades, patterns, and prints available in oversized shirts for men. Most of you think of wearing oversized clothes at home or normally for a day out with friends. Overall, you wear baggy or oversized clothes when you don't feel like dressing up. But thanks to the growing popularity and styles which made it possible to style oversized clothes on every occasion. Moreover, oversized clothes will be your forever partner from casual to formal to party look. 
The trend of wearing baggy clothes is a matter of comfort. Indeed, oversized garments can't be tailored like your regular formal pants, shirts, suits, and many more, but they are certainly more pleasant.
Talking deeply about the oversized shirt
When we go out shopping or even shop online, many juice questions run in our minds. Like, which fabric to buy? Which color will suit me best? How can I style this piece in many ways? And the list never ends. Similarly, when you buy an oversized shirt, you all must get confused. Here's the list of some points that will clear all your doubts about this. 
1. Which fabric to buy? 
Oversized shirts are available in various materials, colors, and patterns. Three of the most comfortable and popular materials are cotton, polyester, and cashmere. Each material has its own pros and cons. For instance, cotton material is super soft, smooth, and comfortable to wear. At the same time, polyester and cashmere shirts are stiffer and wrinkle-resistant.  These fabrics are durable and lightweight. Basically, it is up to your needs, choice, and liking to buy the oversized shirt of any material. 
2. Variety in colors
Like normal shirts, oversized shirts also come in various colors and shades. The list is illimitable, from neutral hues like grey, white, skin, and beige to solid or adventurous colors like orange, blue, green, pink, purple, red, yellow, and more. The trend surrounding these colors is growing worldwide. In addition, many unisex oversized shirts are available in different prints and patterns. 
3. Why add an oversized shirt to your wardrobe?
 
Wearing an oversized shirt increases your personality. Considering an oversized shirt in your wardrobe is a great option. Furthermore, you can create plenty of looks with this clothing wear. Another reason to adopt an oversized shirt in your garments is that almost anyone can wear it.  Anybody can dress up in an oversized shirt and create hundreds of looks from a skinny, tall person to a large, big muscle guy. 
Tips to consider for making oversized style befit on you
1. Dress according to the occasion
Undoubtedly, it is true that we should always dress according to the occasion. It is not just the case for oversized shirts, but generally. For example, you cannot wear a jogger and t-shirt as a party outfit, or you cannot wear a monochromatic street style look for a wedding. So, always remember this thing. However, you can create different styles with oversized shirts, but that doesn't mean you can wear any look anywhere. 
2. Do not buy big; purchase oversized
Most of you commonly make the mistake of considering oversized clothes as double-sized garments. But, this is not correct. You can easily purchase oversized kinds of stuff from local or online stores. Additionally, Oversized clothes are just baggy but have the equal regular measurement of shoulder and the waist like your normal clothes. For instance, if you buy double-sized clothes, they will look large on your body and not give you the fit like oversized clothing. So, do not forget this thing and buy accordingly. 
3. Style with balance
When styling with oversized clothes, always wear only one loose piece in the outfit. For example, if you wear an oversized shirt with wide jeans, you will look super odd, which can also ruin your whole outfit. Therefore, always style with balance. Try to keep things normal and simple with a pinch of modish and chic. 
Ways to dress up your oversized shirt
1. Casual with joggers
Are you heading out to meet your friends? It is the perfect outfit you can dress up in. What you have to do is simply wear your oversized shirt with the contrasting joggers. This getup is effortless, and you will surely rock in this look. Tight the laces of sneakers or sports shoes and a band in hand, and yes, you are all set! Another style that you can try is wearing your oversized shirt over the tee as a jacket or shrug, matching it with the joggers. Be ready to flaunt in this super casual and comfy look.
2. Oversized shirts and the story of formal pants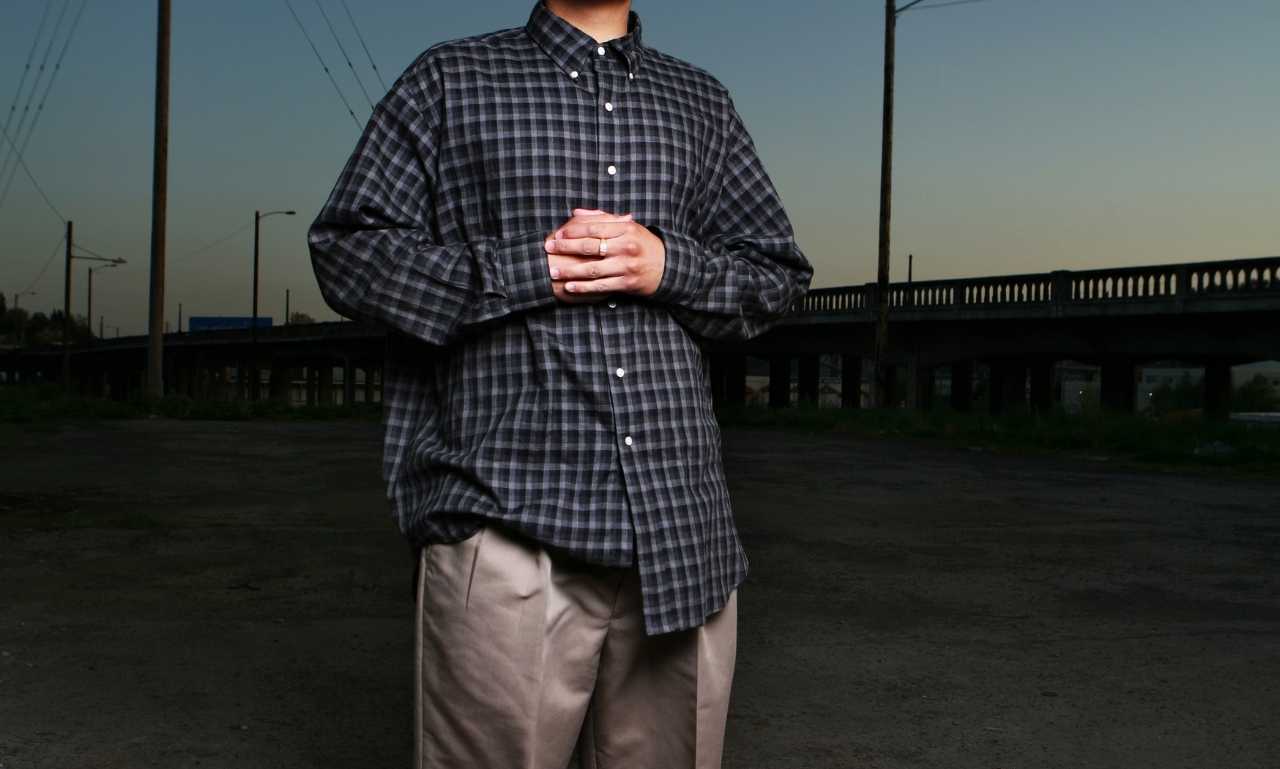 While most of the looks you can think of styling with an oversized shirt give more laid-back vibes. What are your thoughts on styling it up as a semi-casual outfit? Tuck in your nude shade oversized shirt with the formal pants. Complete the look by styling it with sneakers. However, do not pick large prints and adventurous colors for this outfit. Put your hands on a minimal pattern with a neutral oversized shirt and the matching chino or formal pants. You will look super-smart in this outfit. Also, if you are in a relationship, this look will make your girlfriend's heart flutter! 
3. The idea of putting a denim jacket over an oversized shirt
Want to know another voguish look on how to style an oversized shirt? Then be ready to pair your oversized shirt with a denim jacket! A denim jacket will elevate your whole style in this outfit. Tuck in your oversized shirt with jeans or chino and put the denim jacket over it. Do not forget to style up the whole look with the contrasting Taylor. Try out this versatile outfit, and you will surely be in love with this. 
4. Monochromatic tonal
How can anyone forget this style? It is another great way of styling oversized shirts. There is nothing more eye-catching than having a consistent color palette throughout the outfit. This getup will make you look more polished and classy. The trick behind flaunting in monochromatic tones is playing with different shades of the same hue.
Moreover, you can try to enhance the look with dark and light. For instance, if you decide to wear a dark shade in your bottom, choose a lighter oversized shirt. You can also experiment with the monochromatic tone by playing around with the textures and prints to add more fun to your look. 
End thought
There are endless variations of oversized shirts and ways you can style them! If you plan to go to a casual occasion or want to feel chill and relaxed, opting for an oversized shirt is the best decision. Even if you decide to go on a vacation, you can style your oversized shirt with matching shorts and sneakers. Do not forget to put a bucket hat on your head. And guess what? Your super-chilling holiday going look is ready.  Overall, the oversized shirt is your constant partner, so go and buy and add a few ones to your wardrobe.