If you have an adorable collection of headbands and have not found the accurate ideas to store them, then you are reading the right article. Undoubtedly, headbands are the perfect accessory that suits everyone, either long or short hair. They can enhance your every outfit look. However, if you do not store your headbands in an organized way, they can typically become a tangled mess. With the increasing trend of headbands, no one can stop buying this cute accessory. But, the problem comes when you have to organize them. 
Storing headbands might be a difficult task if not done correctly. They might often break or lose their shape if you do not set them correctly. Moreover, you have to spend more time and energy choosing the best one from your bunch of collections. But the question is, what is the best way to store headbands, so they don't get lost or make a mess? You can also consider displaying these headbands prominently. Isn't it a fantastic idea?  For instance, you can also try creating your own customized craft holder. So, let's start with the ideas that help you declutter your space while making it easier to find your favorites according to the need. 
4 pretty and practical ways to organize headbands
1. Purchase a headband holder
If you feel busy and do not have enough time to make or DIY a headband holder yourself, buying it is a great idea! Like the variety of headbands, you will also find various ranges and styles of headband holders too. There is a wide range of styles and color options, from simple to stylish ones. However, it depends on your needs what kind of a holder you should buy. Moreover, if you want to organize all your headbands collectively, then the stackable holders are the perfect choice for you. Furthermore, if you are willing to organize your headbands while putting them on view, then a hairband rack is an excellent option for you. So, shop accordingly and organize stunningly.
2. Craft a DIY headband holder
DIY is never going out of the list! Creating your headband holder is not an uphill task if you are an outstanding crafter. Additionally, it will be so much fun and interesting to make a DIY headband holder. You can choose the color and style accordingly and match your space perfectly. For instance, you can use empty containers left at your home. Decorate it as per your ideas and organize your headbands. If this is a boring idea, you can make a storage device using hooks and a hanger. It is an ideal model to manage your elastic headbands. 
Another way of making a DIY holder is to make your clip rack by attaching clothespins and nails onto a piece of wood. Moreover, do not forget to paint it. To enhance the look, use stickers and other decorative things. And guess what? Your home-ready headband holder is ready, and you can store elastic, plastic, and even metal headbands on this type of rack. 
3. Assemble your headbands in a drawer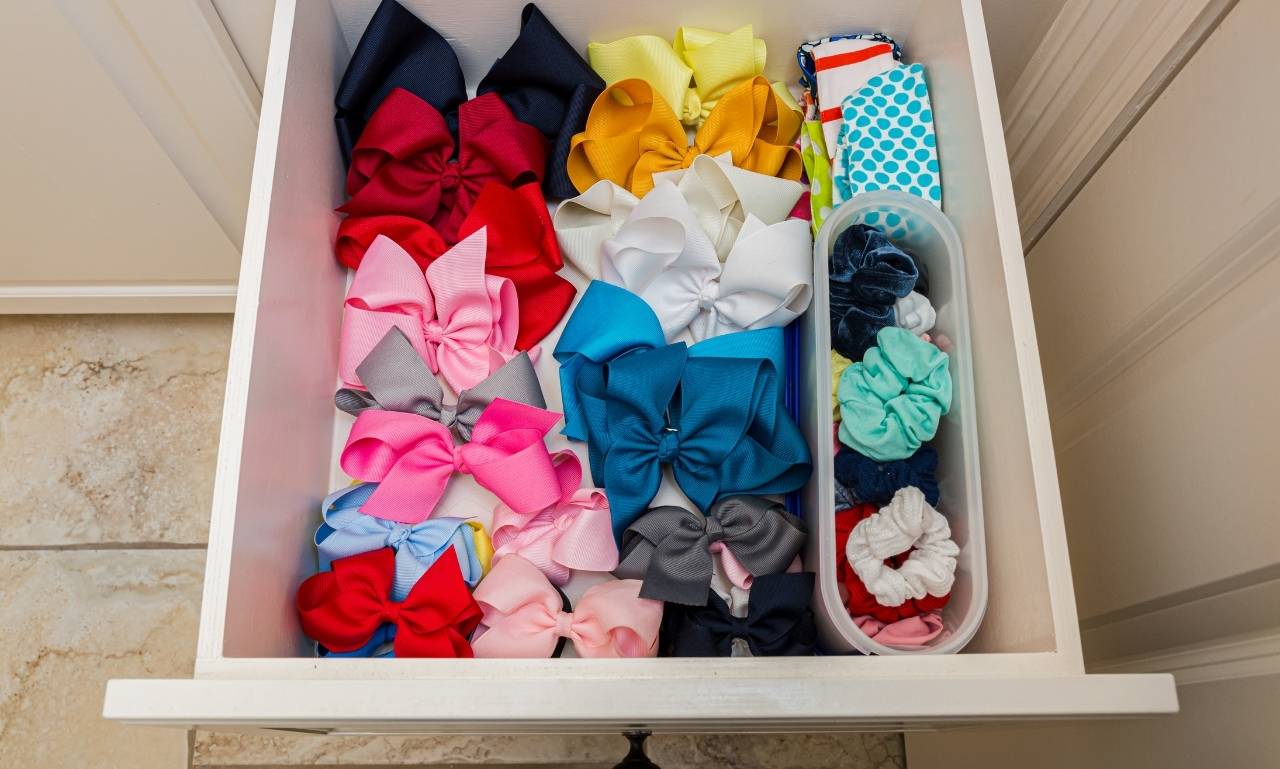 What is better than creating or buying a headband holder? Yes, you are guessing it right! Arranging different styles of headbands in the drawers is a pretty good idea. You can even group them according to their type and store them in a particular space. For example, you can use this drawer system to sort the headbands by color, shape, or theme, depending on your collection. Moreover, you can use drawer organizer storage trays or plastic boxes inside your drawer. Overall, this idea will help you save time in finding the headband you need and protect them from getting fragmented.
4. Using household items
There is nothing wrong with using your household items as an organizer. In this way, you are recycling and reusing things in a moral way. Also, this is an effortless option to store your headbands. You can use your old jewelry stand to organize and display your gorgeous collection. Another great way is to use rods and clips to assemble your hair bands. It can also give a beautiful and colorful touch to your room. 
If you want to store the headbands in a simple but effective way, use the leftover clear storage boxes. Just sort and organize your headbands in them. And almost everyone has these kinds of storage boxes at their house. So, use them for some work and enjoy the easy access. Moreover, if you are facing a space problem, then using an over-the-door organizer is definitely going to work for you. Another best idea to house your headbands is arranging them in a decorative basket. All these options are the ultimate storage solutions. Additionally, you will be able to find your headbands easily and quickly and enjoy your makeover. 
The final thought
Oh Great! Now you are all set to rock and systematically organize your headband collection using these ideas. No matter what method you operate out of these ideas to assemble your collection, you just have to do this! Moreover, on the whole, storing will sort out the things for you and help you to find the headband you want to wear effortlessly. So, shop for more headbands today and enjoy the process of organizing them. Hope you liked this article. Thanks for reading!