With the evolution of fashion trends and unique clothing, vintage clothing is back on the list. Vintage clothes are a piece of history. Most of you might have even added them to your wardrobe. However, these clothes need special care, attention, and maintenance. If you are lucky enough to own vintage clothes, you should do every possible thing to keep an eye on its cleaning. Undoubtedly, these clothes have already lasted for many years. Nevertheless, to preserve the quality and elegance of these clothes, you should follow some measures. 
Many people do not know the correct technique to clean these clothes. Do you know whether to choose hand washing or machine washing for your clothes? No, right? Nothing to fret about! This article comprises all the essential things related to cleaning, drying, protecting, and pressing vintage garments. You should know that these clothes vary according to the material, texture, style, and other factors that make it laborious to know the best cleaning method. Amazingly, you will also get to know some anonymous tips in the following few sections of this article that will help you protect those connected to your heart vintage clothes. 
What are vintage clothes?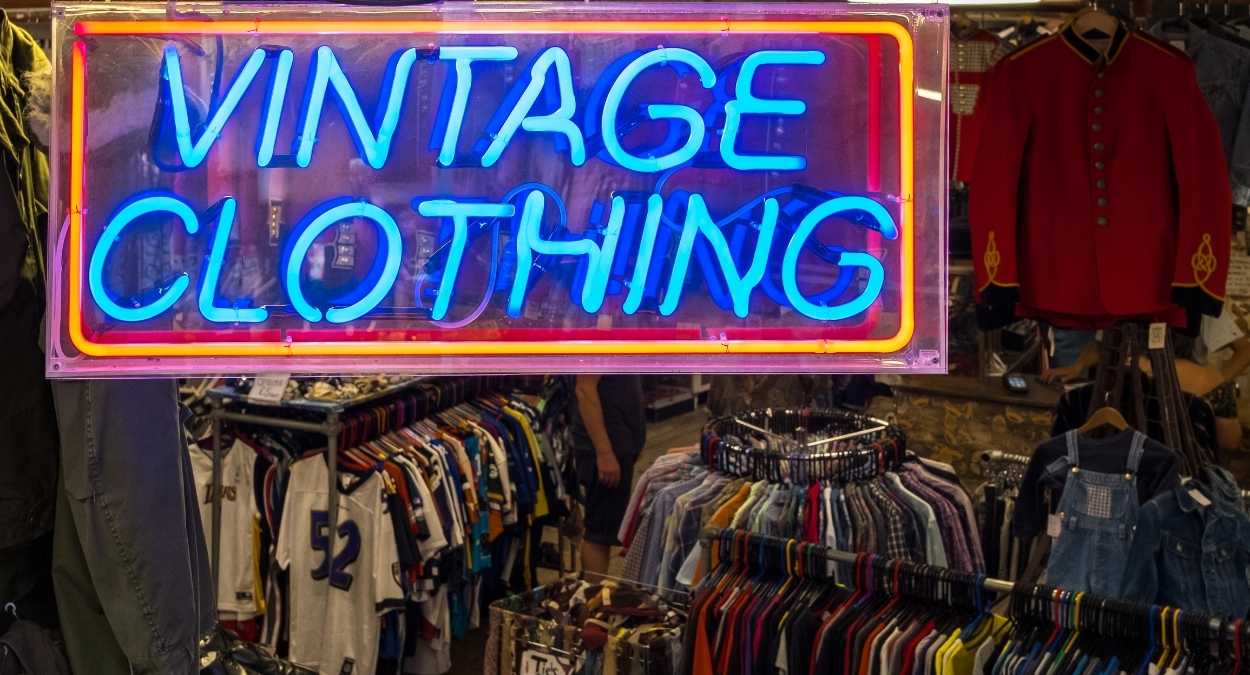 If someone asks you what is the actual meaning of vintage? You will answer it as anything of high quality that belongs to the past. And yes, it is correct! Likewise, vintage clothes are the fashion trends of history. This clothing was introduced 20-100 years ago to showcase the particular style of that era. Some vintage clothes include classical styles like little black dresses, trench coats, button-up white shirts, and blazers. Can you guys relate these pieces to the present vogue? You will indeed find them similar. 
Moreover, talking about a specific decade like in the 1990s, baggy flannel shirts, leggings, oversized sweaters, chokers are most popular. Similarly, in the early 1950s, full skirts and petticoats, shirtwaist dresses, reptile handbags and shoes, and brooches were famous. Yeah, you are guessing right! History repeats itself, and these vintage clothes are back in trend. Isn't it crazy?  So, all those who own these pieces should take a brief look at the succeeding sections to know the valuable guide that will help you maintain the shine of their vintage clothes. 
When is washing required for vintage clothes?
Before discussing the steps of cleaning vintage clothes, it is vital to recognize when to wash them? You all are familiar with the regular washing of your clothes that you buy online or in stores. More often, you clean them after each wear. But you should not follow the same for vintage clothes because consistent washing can actually decrease the lifespan of clothes, whether you do hand washing or support machine washing. 
If you wear a vintage garment, and it doesn't get tidy, you should hold off on washing it. Rather than this, you can consider hanging your piece of cloth in the sunlight or letting it air out for a few hours. As a result, after wearing the fabric, it will feel fresh. But of course, after a period of time between washes, your vintage cloth will catch odor and start getting soiled and sweaty after each wear. However, if your garment gets stained, you should not re-wear it and wash it immediately to remove the stain. 
Cleaning vintage clothing safely
This post piece will help you know which vintage clothing requires hand or machine wash. This information will also clear your doubts regarding dry cleaning, protecting from moths, and safely storing them. Follow these steps for cleaning your precious vintage clothes, and you will keep them in excellent condition like they are. 
1. The idea of hand washing
Hand washing is the best option you can do to clean your vintage clothes. But this is not that much easy. If you are washing a single piece of cloth, then take a clean tub or basin and add enough hot water that your detergent gets dissolved in it. After that, either switch to cold or even warm water according to the need of your garment. Add your garment and gently move it once your tub is filled with enough water. Place your cloth in the tub for some time so that it all comes out clean. 
As another step, drain out the water and gently remove excess water from your clothing too. Do not forget to massage the sweaty corner areas gently. After this, rinse your garment thoroughly to remove the soap from your piece. Fill your tub with clean water again and rinse your garment last time. One pro tip is that you should never wring out vintage garments while rubbing or pressing them as it could cause damage. 
Just in case you are thinking of handwashing multiple vintage garments, never try to save your time by washing them together. The reason behind this is that the dyes could mix up and leave stains on your clothes, or the fabrics could rub against each other and ruin the whole sewing. So, there is no chance left in taking the risk. Furthermore, wash your multiple clothes one by one as this is the best practice to save your precious garments.  
Another pro tip is never to leave the buttons and zips open of your piece of vintage cloth before washing, whether hand or machine wash. The vintage clothes that more often require hand washing include rayon, cotton blends, polyester blends, linens, silk, and items that have heavy embroidery or other winding details.  
2. Machine washing of vintage clothes
Generally speaking, machine washing of vintage clothes is not a good idea in itself. However, some garments can be machine washed as per the instructions. If you have more of these, always use a delicate cycle in the washing machine. Also, do not forget to separate your garments on a color basis because they can get the stain. Moreover, ensure that all the zippers are zipped, and buttons are fastened to prevent snagging. 
In rare cases, if you have decided to wash your items together, you can consider using a mesh laundry bag. It will not create any disturbance in thorough washing but protect your clothes from snags, pulling, and twisting. Additionally, the most common vintage clothing materials that work well with machine washing include nylon, cotton, polyester, spandex, or synthetic fabric. 
3. Hang drying
Drying your vintage clothes is equally important as washing. Hang drying is the best possible way to dry your clothes. However, this procedure depends on the size and weight of garments. You can use a padded hanger that will give complete support to your clothes. Also, you can even put your hands on plastic hangers. But try to neglect the usage of the metal hanger as they get rust and thus can cause discoloration of your garment. You will indeed feel glad to see the spectacular results of properly drying your vintage clothes.
4. Need of dry cleaning 
The talk isn't ending here. Dry cleaning is a crucial step to know as it can keep your vintage clothes in their best look. However, not every material responds well to dry cleaning. Many older silks can be damaged by dry cleaning. On the other hand, wool is one material that needs to be dry cleaned. Additionally, other pieces such as pleated skirts, jackets with shoulder pads, leather, and fur will also work splendidly when dry cleaned, but professionals should definitely clean these items. Moreover, if your vintage clothes contain rhinestone buttons or similar embellishments, never forget to remove them before dry cleaning. 
5. Protection of your precious vintage clothes from moths
So, this entire process requires a lot of effort and strength but, what if your hard work gets wasted if moths attract your vintage garments? There is no chance of it. As you all know, most vintage clothes are made from animal-origin fibers. But unluckily, this is also true that moths are most attracted to these materials. So, the procedure doesn't just end with washing and drying; you will have to store your vintage clothes properly for their protection too. 
For this, you can put your hands on clothes moth traps that will prevent the moths from your treasured vintage clothes. These traps are user-friendly and work amazingly, giving 100% assurance of protection.
Final thought
Owning vintage cloth is the same as protecting your precious treasure. In treasure, you have to safeguard its protection to save it from getting stolen; likewise, in vintage clothes, you have to make an extra effort in the care and safety of the material. Learning the simple cleaning methods of your vintage garments will preserve that article of history and keep them in their best elegance. Hope this information helps you! Thanks for giving your valuable time to reading.