Fashion keeps on changing every day. People nowadays experiment with new outfits to look fashionable and classy. There are different types of costumes available. One of the most important factors to consider in choosing an outfit is the comfort level which also elevates the look of a person. Everyone prefers to go for a trendier outfit that is cute, cozy, and comfortable. One such outfit idea is wearing overalls.
Do you have a pair of overalls that you have never worn and are not planning to wear anytime soon? Here are certain tips that would compel you to think about the fashion trends, including overalls that didn't cross your mind
Styling tips on what to pair with your overalls
Comfort Matters
Make sure what you wear under overalls is comfortable and feels good against your skin. The best fashion trends come out looking good when the person wearing them is comfortable. Unless you are easily carrying the dress, you won't look trendy. This includes every piece of clothing you wear underneath; even your underpants add to your sense of style. When you are comfortable and pair just a formal t-shirt with your overalls, you will look as trendy as any other.
It is often said that confidence is the best fashion accessory that you carry. But it is not easy to earn this accessory until and unless you feel comfortable. Making comfort your priority will also make fashion trends come on board with your style. 
Match The Colour And Pattern
Comparing the colour and pattern is necessary whenever you wear any shirt or piece of clothing paired with your overalls. The pattern and colour of the clothing you choose to wear should match the overalls' colour. As important is comfort when you choose your piece of clothing, the colour of clothes you choose is of similar importance. Many times it might occur to you that experimenting with different colours will definitely help you find your uniqueness and your style but might make the outfit look really bizarre. 
To find your unique specialty and styling, you should definitely try different textures and patterns that go with your pair of overalls but see to it that when they are worn together, they look like one complete outfit and not a chaotic one. 
Take season into account:
Whenever you choose to style your overalls with a pair of t-shirt or a top, you should always consider the season in which you are planning to wear them. If you love wearing your overalls with your tank top, you should definitely do it in summer, but if you want to pair your overalls with the same top in winter, by covering it up with a pair of sweaters or coat, you will not find the look appealing. This can even make you look entirely out of trend. 
Instead, try choosing a different type of tops or cardigans or sweaters that goes with your overall. This way, you can use your overall in all the seasons and still look equally attractive every time you wear it.  
To give an example, you can use a tank top to go with the overall in summer, and you can have a turtle neck full-sleeved top for winters.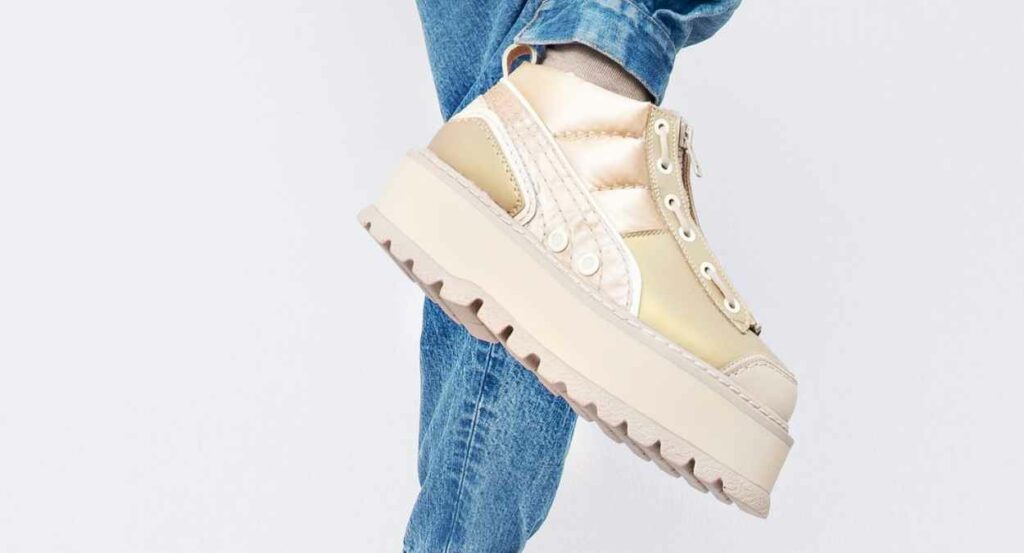 Whenever you look at styling tips to go with overalls, you often miss an important factor that can influence your whole look- the shoes. They are also an important aspect to consider when you are styling your overall. A pair of shoes can easily upgrade or degrade your look based on the choice you make. Pairing a white shirt with your blue overalls and big brown boots can make you look like coming straight out of the farm. The fun part is that just a change in your shoes can transform this whole look into a much better-styled fashion trend.
The shoes you are choosing to wear with your overalls are as important as choosing your shirt. You can go with boots, sneakers, mules, or even flats, but you have to think wisely before choosing any of these. You need to understand the pattern of your overalls and the shirt you choose to wear inside and then decide what shoes can make the overall look of your outfit trendy and effective. 
Wearing accessories is the best way to make a person look classy and elegant. But overdoing it might make it look dull. Wearing accessories breaks the monotonous look and can add an exciting element to the outfit. Accessorizing smartly can add a flair to the whole look, but it can also completely ruin the look if not taken seriously. You need to keep in mind what looks good with your outfit and how to use a particular piece of accessory to your advantage.
Choose a high-quality fabric that is both durable and flexible. To get the most elegant look from a piece of clothing that you purchase, you have to check for the quality of material the cloth is made of! You have to be really smart and witty before you buy a piece of cloth. Sometimes choosing something that looks good but is of a cheaper quality than a shirt that looks alright but has better quality, you should always go for the latter one. The quality of the material is very important as spending on a cheaper quality might lead to early wearing out of the cloth and thread fraying out of your top, which makes it look really bad after just one wash. 
To look great and rock the look, wear a perfectly fitted overall. Ill-fitted overall can make the look shabby, while a body-hugging overall will give the person a more elegant and cleaner look. It is not that oversized outfits don't look good, but they have to look like they are meant for you. Styling your oversized overall perfectly to make it look like it was created for you. You can pair them with shirts that fit you properly. An outfit that has a perfect fit accentuates a person's physique and makes a person look more presentable. 
Now it's your turn:
The main intention of this article is to let you know that overalls can look fashionable if you consider the tips listed above. Nevertheless, you should always put your sense of style into anything you wear. Your uniqueness makes you look like a diva. These are just tips that will help you get there. Don't think of your outfit as a failure just because it doesn't work out how you planned; sometimes things take a little trial and error before they start working well, so don't get discouraged when something goes wrong or isn't quite what you were expecting. You can always try again with a different approach! That being said, the information provided here has been tried and tested and mentioned with the goal that not one piece of cloth goes unused just because you don't know how to style it.