Who does not want healthy hair? All of you must agree that hairs play a significant role in our personality. But the one thing that pinches your mind is their extra care. Everybody wants to flaunt their hair, whether long or short. Are you tired of hair fall and hair breakage? Do you want to take care of your hair by following trends and fashion? Here's the solution.
Let's talk about scrunchies today! So, what are scrunchies, and how do they protect your hair? They are nothing less than an elastic rubber band, but they have an outer covering of fabric, whether crepe, silk, satin, or cotton. They are used to fasten short to medium to long hair types. Most of you must be curious to know what makes these scrunchies so unique and people-loving? They are soft, delicate, and affordable for your hair. 
Additionally, there are millions of types and varieties of scrunchies today in every corner of the world. Several remarkable benefits make these scrunchies the people's choice. Undoubtedly, you should surely invest your money in this hair accessory. Furthermore, this simple and stylish accessory has the magical power to prevent hair breakage and headache, keep your hair tangle-free and moisturized, provide an option to set many hairstyles, and a lot more than the list is endless.   
Read this interesting and informative article to know why you need an excellent scrunchie for your hair? Moreover, you will also get to know some great reasons, or you can say the benefits of adopting scrunchies for your hair. You will indeed get impressed by it. 

Read this:  Scrunchies- the return of retro trends with a bang
Here are some top advantages of using scrunchies
Scrunchies are appropriate for your hair
There is no doubt that scrunchies are absolutely an ideal choice for your hair. Generally, most of you use basic elastic rubber bands that cause major hair breakage and damage. On the other side, scrunchies provide an extra layer of protection with the additional fabric that feels soft and smooth to your hairs.  
As now you are familiar with how a scrunchie works, you must have an idea that your hair won't get tangled when bound up with a scrunchie. Alternatively, there is no chance left of your hair getting broken. In comparison to other hair ties, scrunchies have proven to be the most demanded and trusty hair accessory compared to other hair ties. 
Moreover, many factors are also included in the list to get the best results with the scrunchie. The most important and common one is good fiber selection. Your scrunchie fabric must be soft and glide over the hair smoothly, causing no pull and tug. For instance, velvet collection scrunchies are an appropriate and best option in this case.  
It feels super annoying when the hair ties leave kinks in your hair. You cannot wash your hair daily, and straightening them using heat can cause severe damage. So, how can you solve this problem? Yes, you are guessing it right! A scrunchie will be your best friend in this whole journey.  But, how can a scrunchie prevent this? As you know, they have an extra layer of fabric next to your hair. This layer creates a barrier between the elastic and your hair and dramatically reduces awkward kinks or lines or strange waves on your hair.
That's right; regular hair ties can make you feel irritated if bound up for long hours. They cause a hectic headache that is almost unbearable. But, scrunchie will not let down your expectations in this part also. Scrunchies are softer, light, and gentle on your hair, and this is the reason that you will not get any headache with even tight ponytails and bows.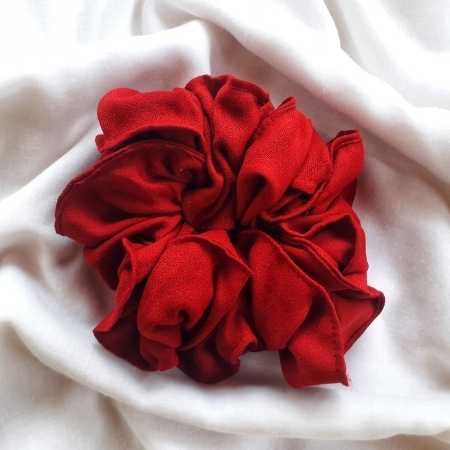 The world of scrunchies is developing to another level day by day. With the wide range and varieties of different colors, fun patterns, and fabrics, you can quickly and easily change your whole look. A scrunchie can indeed make your outfit classic and chic. Furthermore, it is also no doubt that they are super cute tiny accessories. Scrunchies make a statement! In addition, this hair accessory is very noticeable and blends perfectly with your hair. Moreover, they can elevate your bad hair day and turn it into an excellent energetic hair day. 
How many regular elastic rubber bands have you lost till now? The counting is endless, right? The amount you invest into one scrunchie is undoubtedly less than you would spend on the total elastic rubber bands you have lost. Isn't it funny? Moreover, talking about the cost-efficiency of scrunchies, they are easily affordable and durable. 
Decidedly, if you want a good suggestion of where to buy these trendy scrunchies, then the halo effect will be top of the list. They have a perfect variety of every type of scrunchies at a budget-friendly price.  Do check them out!  
Final thought
Scrunchies are an ultimate hair accessory that works like wonder. Whether you want to rock in thick curls, a thin bob, or anything in between, scrunchies are the things you always need. They not only keep your hair well-groomed, neat, and stylish all day long but also prevent breakage, damage, and headache. The points mentioned above are enough to convince you to make the switch to scrunchies. What do you need more? They are a perfect combination of hair accessories that can provide pros in health and fashion. So, what are you waiting for? Go, buy and style the beautiful scrunchies now!