1970s disco fashion has circled back in recent years thanks in part to mainstream fashion's return to the boho style. '70s disco costumes are sought after Halloween and themed party outfits year after year, while disco dancing itself is also making a comeback. Do you do the hustle? This fun, upbeat dance craze combined with unmistakable disco clothes is worth revisiting.  The disco craze of the 1970s was, in many ways, the decade itself in miniature. The decade largely broke boundaries of all kinds, while discotheques took the best elements of every '60s subculture — from hippies to drag queens and everything in between — and produced something totally new, totally different, and totally inclusive.
History of the authentic 70s disco fashion 
Disco clothing, like the '70s, brought far-flung fashions together as no other movement had. In hot night clubs like Studio 54, Funhouse, and Xenon in New York City or The Palace in Paris, dressing for disco was a chance to wear your personality, much like a costume. With flashing lights, a spinning disco ball, and loud music, chances for conversation were minimal, so the disco costume had to say it all.
As such, disco clothing was hardly confined to the dance floor: its elements trickled down to '70s street fashion and even workwear. The 1970s kicked off the age of casual, and fashion has never been the same. Jeans at work and short shorts by night? You've got disco to thank!
Disco fashion, and 1970s fashion more broadly, is notable for its lack of distinction between men's and women's wear. Certain elements leaned one way or another — not many men in wrap dresses! — but the hairstyles, accessories, and overall silhouettes were more androgynous than anything the squares had seen.
Authentic '70s disco fashion was the love child of many formerly segregated subcultures — breaking boundaries was in its blood. The culture took hippies' "free love" ethos to its most dramatic conclusion, throwing anything and everything together and wearing it with pride.
Authentic 70s Disco fashion ideas
1. Balance bold patterns with staple accessories
When it comes to channeling another decade via fashion, there's a fine line that teeters between 'just right' and 'overdoing it.' To keep things modern, opt for just one bold, funky pattern and keep the rest of your outfit fairly neutral, with solid colors or—if you really want to go for it—a subdued print.
Customized lapel pins are a great option when choosing accessories. Customized lapel pins strike a balance between understated and ostentatious. They are not only delicate and beautiful but also can enhance your temperament. Different lapel pins can match different outfits, and they can express your own personality.
2. Rock a denim jumpsuit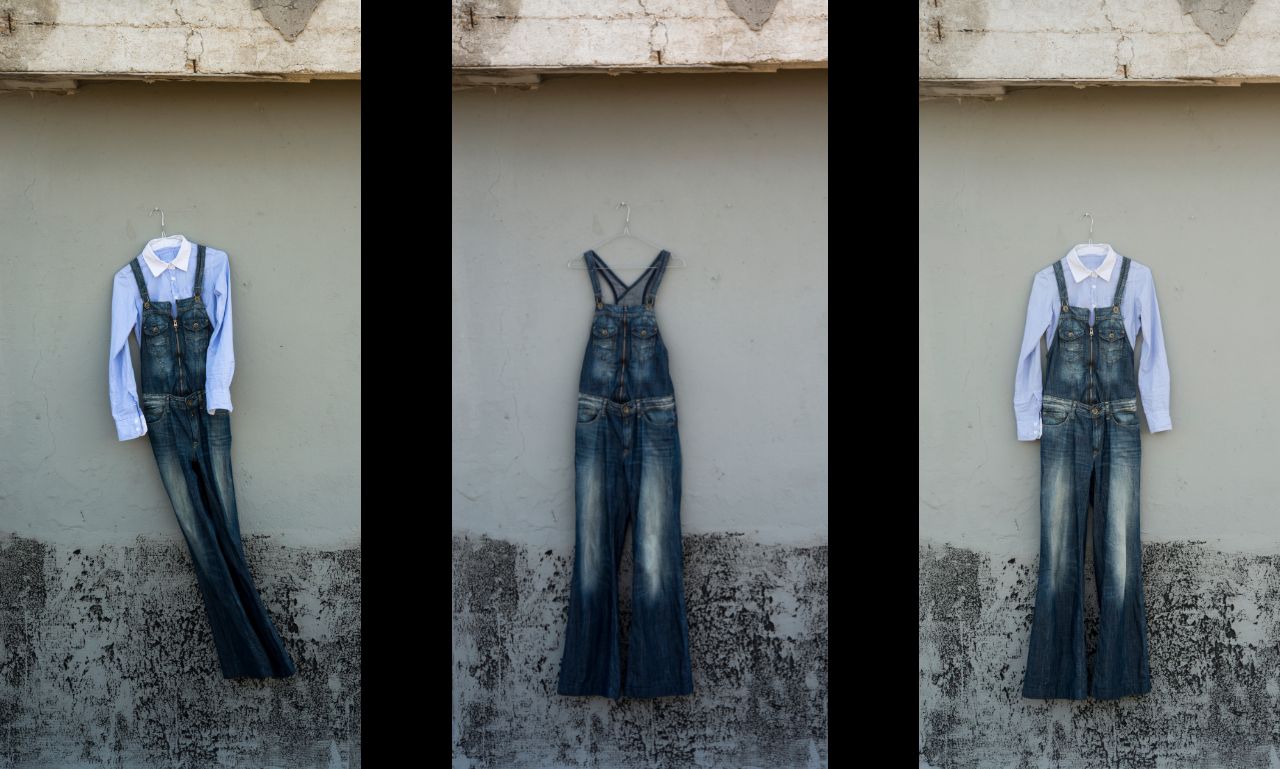 Nothing screams peak '70s quite like a good all-denim look. Think: John Lennon sporting his favorite Wrangler jeans, Brooke Shields's controversial Calvin Klein ad at the end of the decade, or pretty much any of Sonny and Cher's iconic denim ensembles. There are a few things to keep in mind to ensure a denim jumpsuit doesn't look like a costume: First, opt for wide or flared legs rather than slimmer cuts. Then, add a cool camel coat with a minimal shoe to add polish to the look without stealing any attention from the denim jumpsuit.
3. Embrace funky materials
Denim is all well and good, but another fun way to channel the '70s is by incorporating bolder, less expected materials into your wardrobe. While the crochet boom mostly began in the sixties, the DIY look carried well into the seventies. This would be a fabulous time to scour vintage stores for bold knits that are the real deal or look for sustainable designers who prioritize the handmade granny squares cherished back in the day. Since these crochet cardigans run bulky, we suggest pairing them with a cute bralette or form-fitting shirt and bold, straight-leg leather pants for a modern twist on a groovy outfit. While not for the faint of heart, these in-your-face combos are sure to turn some heads.
4. Opt for shiny fabrics (and platform heels)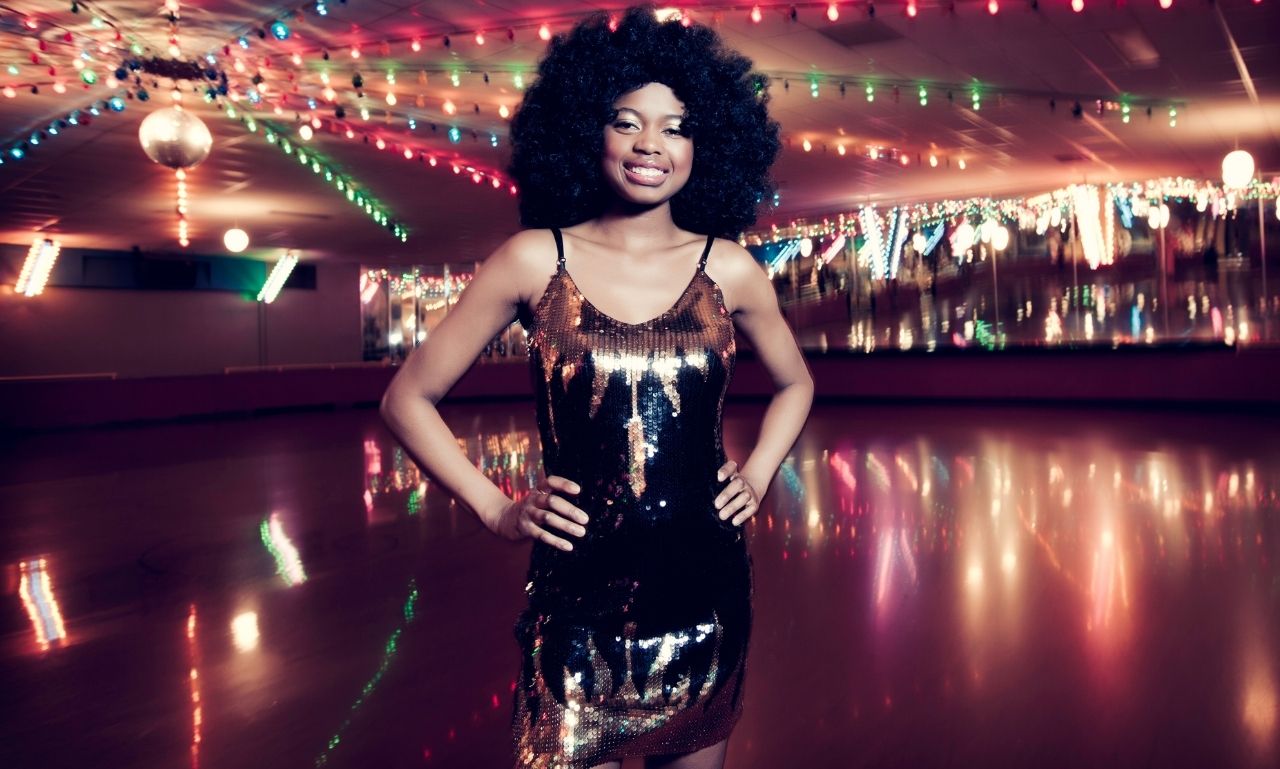 Say it with us: nylon, nylon, nylon! Be the center of attention in this shiny, wrinkle-free fabric that will make it look like you stepped straight off the disco floor after a night of boogying. Disco pants are making a *big* comeback, and the best way to pull them off is to let them be the star of the show. Keep your look simple and clean—with a matching top or even a simple white tee—as not to deter from the pizazz. To finish off the look, we recommend digging up your cutest platform heels to (quite literally) take you to the next level.
5. Try a halter neckline
We love the subtle sexiness that a plunging halter has to offer—it's a low-key way to show off some skin while still looking chic and classy. Whether you decide on a dress, jumpsuit, or top in a pattern or a solid color, this gorgeous '70s silhouette is a no-brainer—especially once you've squared away your backless bra situation.
Continuance of the disco fashion trend
Disco did not die in 1979. It lived for a few more years into the '80s with some changes to fashion. The bell-bottom pants were replaced by the straight leg pants that curved butts, sucked in tummy fat, and slimmed legs down to the ankle. There were also the baggy jeans that pleated at the high waistband. It wasn't as "sexy" as the straight-leg pants, but it was more comfortable.
Spandex and stretch fabrics increased in popularity, combined with cotton jeans for a reflective bottom.  The spandex bodysuit or leotard continued to grow too.  Rhinestones and sequins embellished bodywear. Dance shoes like ballet flats or wedges, canvas "Jazz" sneakers, tapless tap shoes, and leather booties made dancing more sporty. Add in arm warmers, leg warmers, wrap skirts, sweaters, and chunky plastic jewelry and it was Jazzercise time at the Disco.
Besides dance, there was the roller disco style. Combining the sport of roller skating and the dance of disco gave '80s fashion a new look. Paring short metallic gym shorts with a leotard or sequin tank top took this street sport to the dance floor and back again.  American disco danced in roller skates but they also danced in smooth sole sneakers at the clubs. Other types of athletic clothing were worn such as golf shirts, striped rugby shirts, mesh jerseys, warm-up jackets, crop sweatshirts, and muscle shirts for men. As for bottoms, velour sweatpants/tracksuits were fine at the roller rink but stretch jeans, tights, and leggings were better at the Disco.
Some women wore chiffon dance skirts while others wore knit or terry cloth tunic dresses over striped leggings. Bright, colorful, and sporty was the way of '80s disco.