The teal clothes are readily in trend today. Whether in men's or women's outfits, there is no way that you can go wrong with teal color. Yeah, it is not a primary color like black, white, and gray, which is why many people do not wear it. The exciting part is that teal color looks fabulous in every season, be it summer, winter, spring, or fall. Try this color once if you haven't, and this will surely steal your heart. 
Styling teal outfits is not an intricate part, but many people get bemused in selecting the color combination with this color. In winters, you can rock on with a teal blazer styled with some snake print boots, and in summers, the list of outfit ideas is endless. On the whole, you can style teal color beautifully and elegantly. Moreover, the shades of teal are incredibly versatile and leave you with a vast scope of generating countless end contrasting outfits.
Continue reading this article to know the creative combinations you can make when pairing the different hues with the shade of teal. Moreover, you will also learn some tips to style your teal outfits. And as a jackpot, this post will also conclude the reason why some colors do not give excellent results when styled with teal outfits. Isn't the whole article so informative? Indeed, it will be helpful too!
What are teal clothes?
Teal is a color, and clothes with this same color are called teal clothes. To understand this color deeply, you need to think of the sea and greenery. It is because teal is a vibrant shade with a mixture of green and blue colors. The teal color is readily popular these days, and you can get various iterations of this color in the market. With this unique color, you can create an endless number of looks. Moreover, one thing that will be constant in the whole styling process is that this gorgeous blue-green mix will always impact. 
What is the fact that some colors go well with teal and not others?
 The most common mistake made by people is that they think teal is made up of greens and blues, so styling it with these complementary colors would be the best choice. But, guys, what are you doing? Yes, it is true that when you style black and white in a monochromatic way, you look chic and modish. Now, when you think of creating a monochromatic look with teal, there actually couldn't be more wrong than this. Talking about ROYGBIV (red, orange, yellow, green, blue, indigo, and violet) color wheel, these colors help create a gradient or semi-gradient color texture when styled with teal. Wearing teal with teal is a bad idea because this will not make an impactful effect, and an individual will not stand out in its look. So, if you seek colors that look good with teal, green and blue are not the options as they will mute the impact of the hue.  
For instance, if you are looking for a precise answer to the question, "Which color would be the best choice to style with teal except for the basics?" one answer would be the coral. It is because coral supports the opposite side of the color wheel, and specifically, this color is a designated complementary color that will never betray your look when styled with teal. 
Read This: What Colors Go With Red Clothes
Tips to must follow while styling your teal clothes
You never know that you can give birth to a whole new look that suits you, so stay motivated while trying new colors that nobody has ever attempted before. 
If you want to have a subtle yet straightforward look with teal color, always use accessories in teal colors like belts, handbags, resin rings, and hair clips. Accessories can be a game-changer in your whole look. 
It is always a positive point if you could find teal color shoes because they can always be a great adaptation to the outfit. Teal clothes are not just about shirts, pants, tops, or dresses; footwear is also a part of it. 
 The best colors that go with teal clothes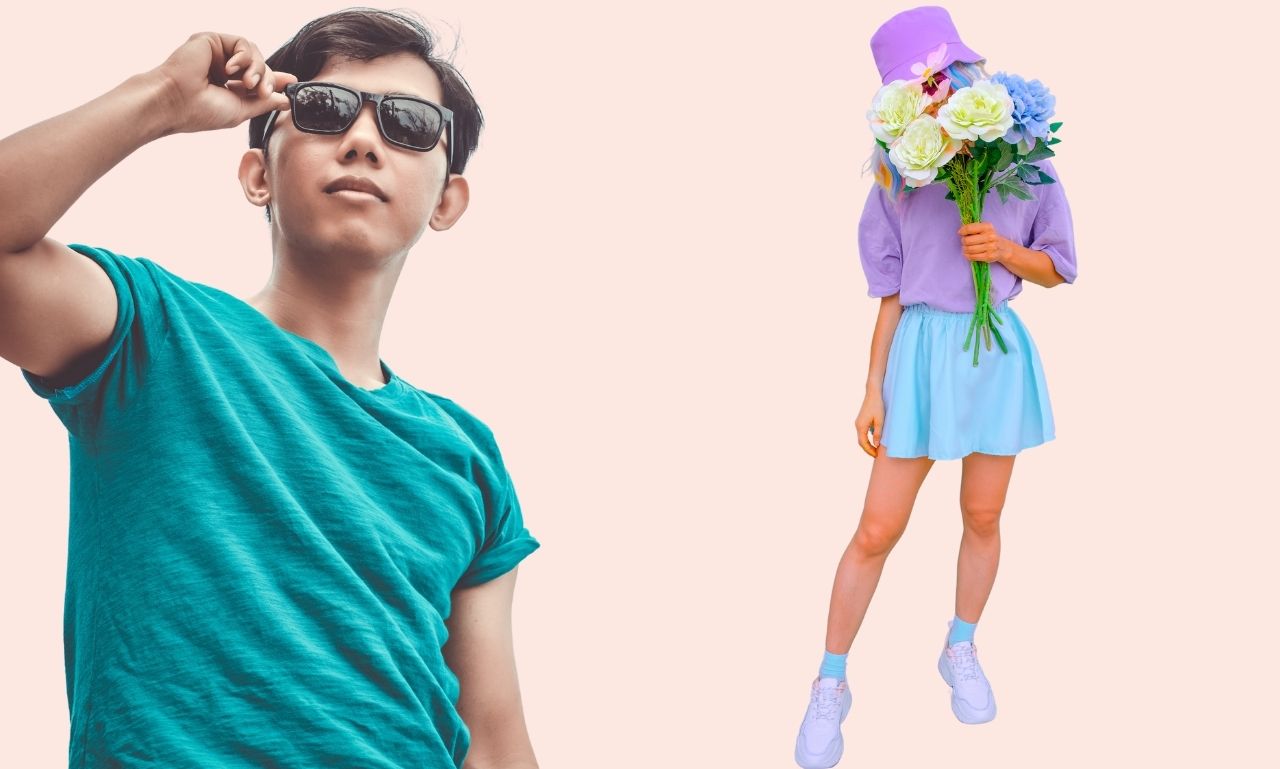 If you are wearing shades of teal and do not know what best complementary color will complete the outfit, do not worry! The remarkable way to incorporate any complementary color with teal is by choosing the more muted versions or shades. For instance, in the case of pink, Dusty and pale pink are the better options that you can rely on. 
Talking about the yellow ones, a mustard shade is always a go-to choice because it can add pop to your teal green outfit. Moreover, other options like metallic gold would be a perfect selection if you want to add glamorous and great gatsby vibes to make a bold statement look with your teal blue outfit. The browns family is the first choice you can think of if you want a formal kind of look. Caramel shades will help you get a subtle contrast, whereas some dark brown will help you incorporate more dramatic pop vibes. 
Final words
Sometimes, it creates a lot of mess while selecting the best color that goes well with teal clothes. Color is so important in any outfit. By choosing the right combination of prints and color, you can enhance and brighten up any style of clothes. But with one wrong choice, you will waste your time, money and energy too. Add teal to your wardrobe without any fear.  They will surely add some pops of color to your life and outfit too. Say goodbye to blues and greens and hello to pinks and browns while creating different looks with teal clothes. Yes, it would be a long process to find the exact matching combination, but the result will be indeed worth it.  Hope you liked the article!